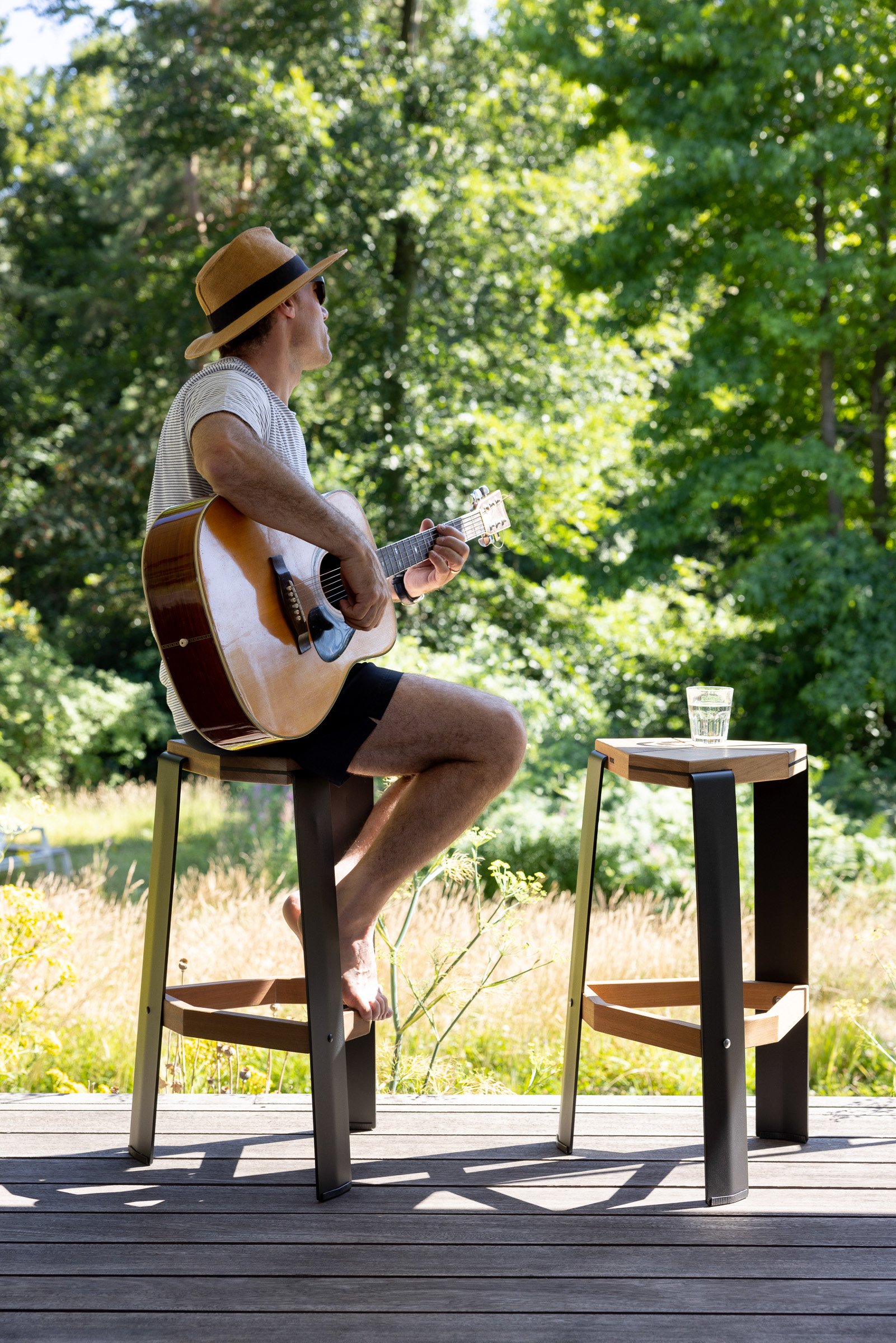 VONK Furniture: furniture where memories grow
Bringing people together, letting them enjoy, making them talk to each other: that's VONK's mission. Just like Jonas Willems, the designer of VONK, his furniture has a distinctive edge. The 'end grain cut', where the steel frame and the hardwood top meet, characterizes the collection.
It all started with the VONK Fuse, a relaxed trapezoidal picnic table. This sturdy table with fixed benches was quickly picked up by several organizations, who saw in the Fuse picnic table the dream lunch table for their employees.
The growth story of Jonas Willems, the driving force behind VONK Furniture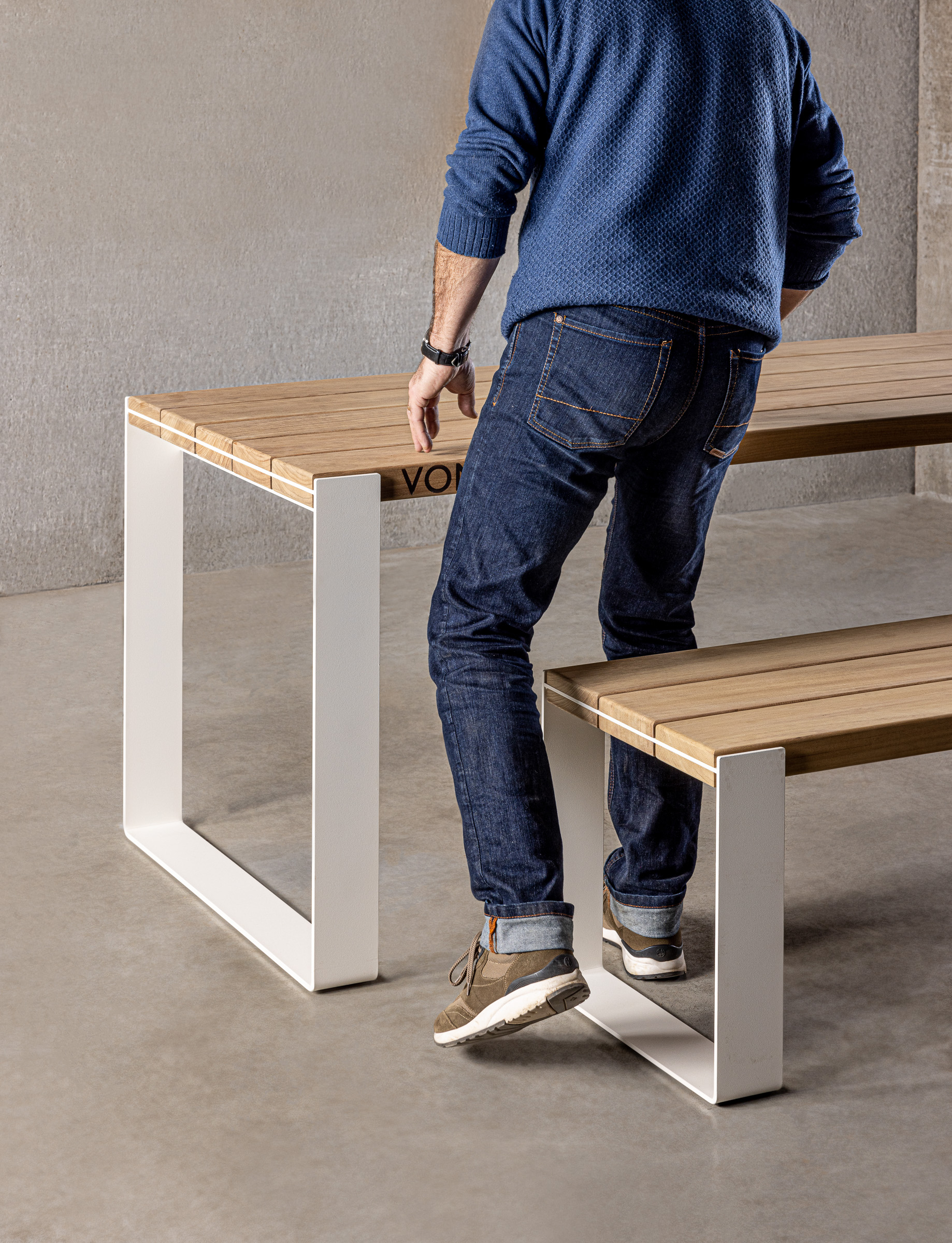 The kindling that ignited the passion
As the son of an architect/carpenter, Jonas inherited his love for wood from a young age. But his biggest inspiration came from his grandparents, who were gallery owners. The legacy of the "Huize Geertrui" art gallery colored Jonas' childhood. In his home environment and among family, he was introduced to Flemish artworks and Scandinavian design. The stylized works of Renaat Ivens strongly inspired him, as did the pure forms of the Scandinavian design pieces.
As a young boy, he considered becoming a firefighter, but his designer's blood took over. After some detours, Jonas ended up at the Luca School of Arts in Ghent, where he studied interior design. During that education, he learned to express himself in 'design language', his second native language.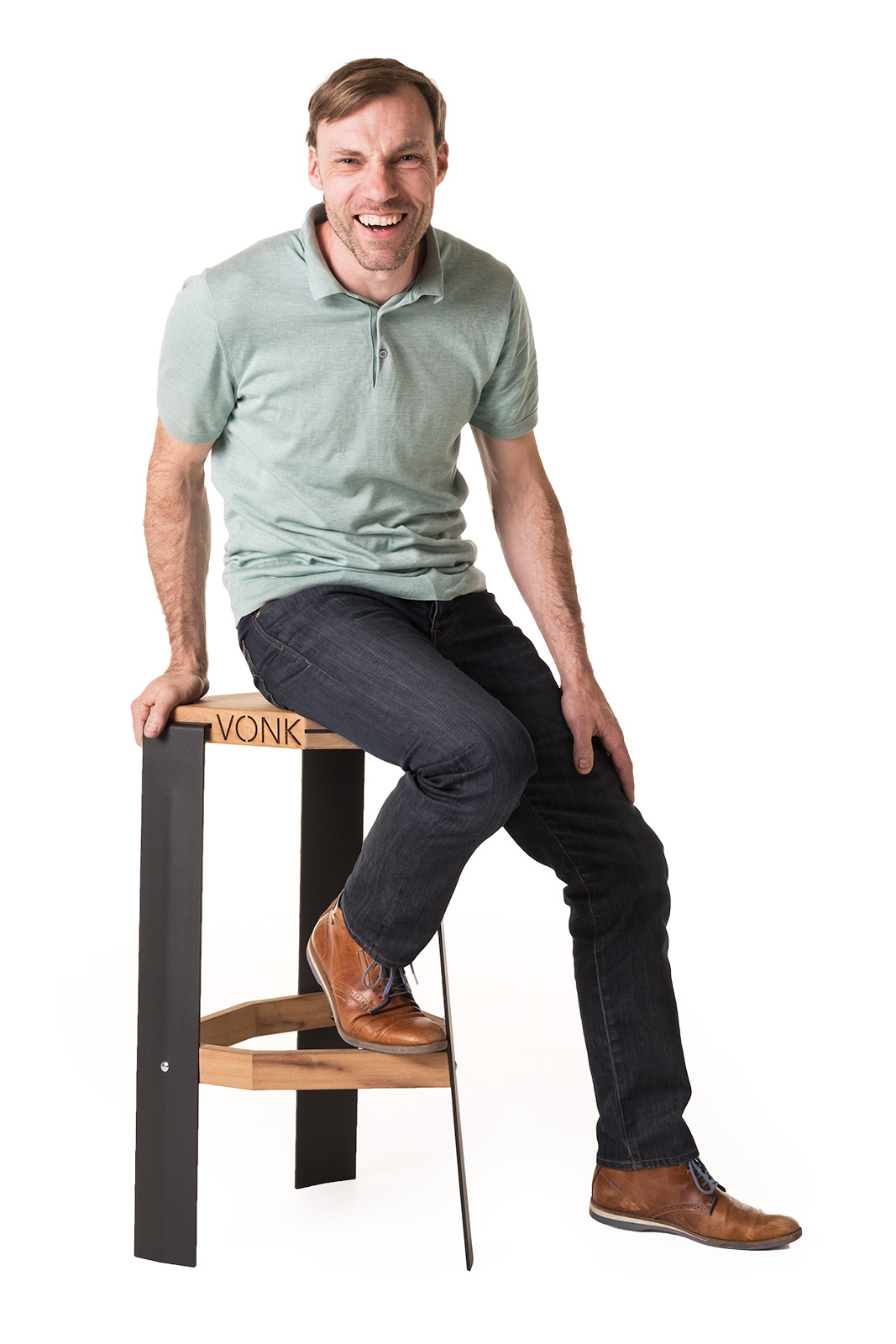 VONK, no outdoor celebration without a spark
Jonas is a true family man. He loves being close to his wife, his sons, family, and friends. He finds this longing for cozy togetherness mirrored in the customers who order his tables and benches. Fiery conversations, long summer evenings, memorable parties... The idea that his furniture are silent witnesses to these moments, he finds amazing.
Jonas: "I light up when customers respond with: I can feel the time you put into this piece, our home has gained a soul. That feeling, that's what I do it for. And to bring people together, for that too."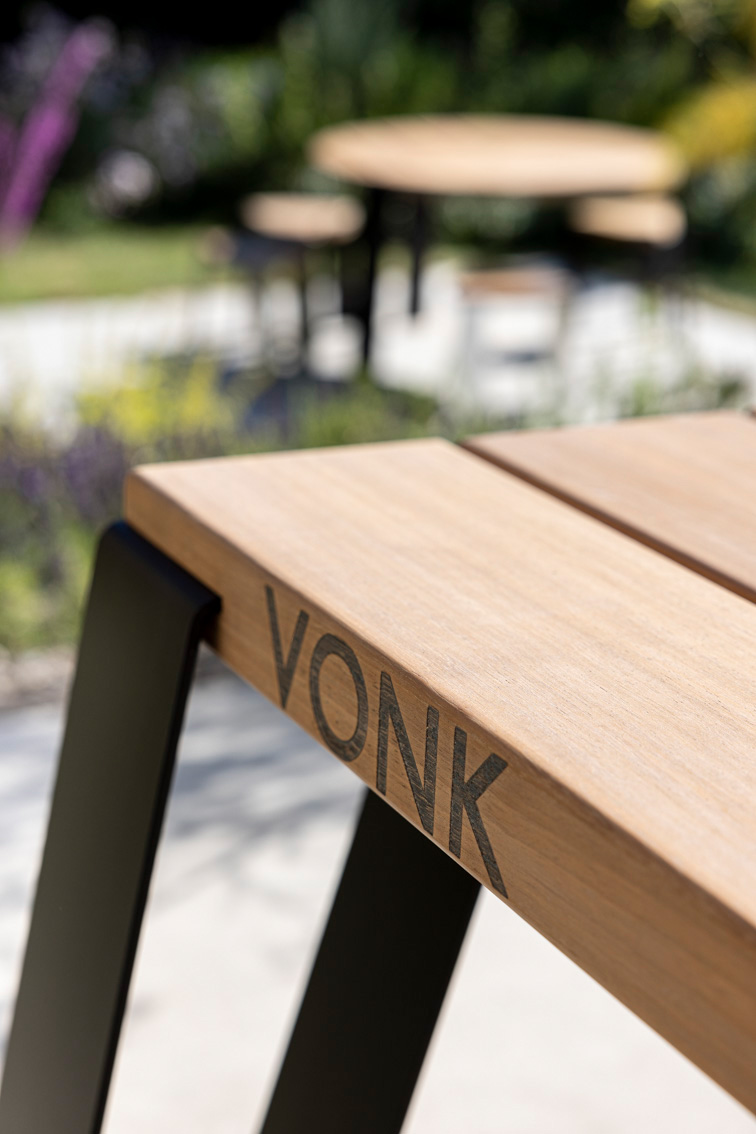 The right material for the right application
The fact that wood, just like humans, is imperfect makes it his favorite material.
Jonas: "Wood lives, it's sometimes stubborn, it grays,... that's what makes it so beautiful. I work exclusively with sustainable materials, which are strong, simple, and honest. This allows me to craft furniture meant to be lived with. They essentially evolve with the people who use them."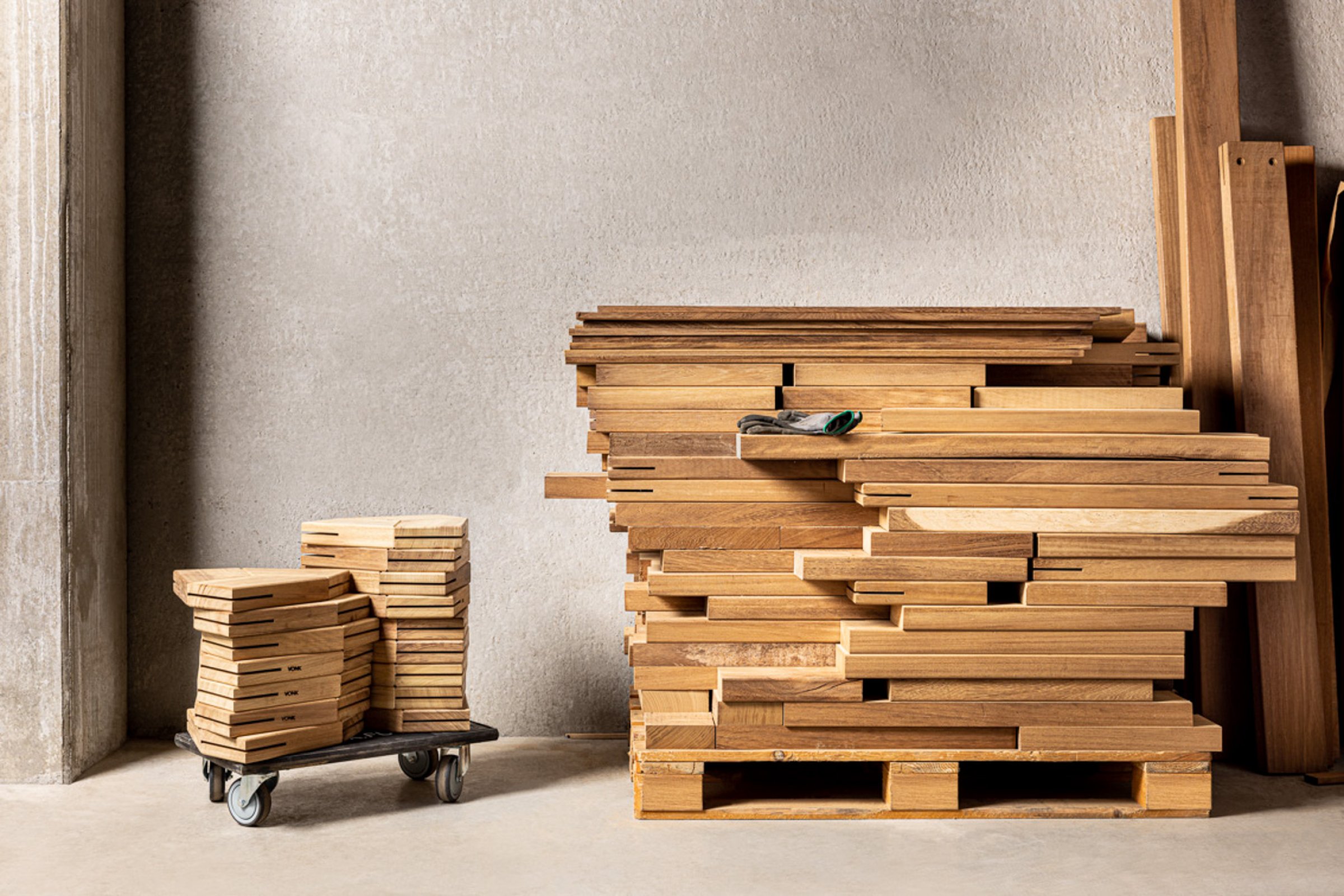 Uniting, crafting, collaborating
Jonas: "What are my ambitions? Bringing like-minded souls together. Building a dream team. Establishing collaborations with authentic people who have a unique vision. You've got it: beyond beautiful designs and pure materials, 'real' people are my passion. Together, you achieve so much more than alone. Nourishing each other, sparks flying, a story that grows with each character's contribution: that's my dream, no no, that's the near future!"